Content marketing is a type of Digital Marketing. It is a broadly used field that allows both startups and MNCs to create awareness about their brands to their respective target audience. It is a type of Digital Marketing that requires you to produce attractive content in such a manner that the audience is prone to buy your services and products.
This '5 Steps to Develop a Content Marketing Strategy' blog covers the topics mentioned below:
Now, let's get into how you can develop one of the best content marketing strategies for your company.
Creating Effective Content Marketing Strategies
To learn how to develop content marketing strategies, you need to first understand 'What is a content marketing strategy?'
Content marketing strategies are among the most important parts of any company that help reach out to users. While creating content marketing strategies, one thing you need to keep in mind is that it is a long walk rather than a short one. You need to create a strategy that will prove effective in the long run for your company. Content marketing plays a crucial role in the world today as every new and old company is using it to attract users and leads. These are several content marketing strategy benefits, that will help your company in the long run, including the ones mentioned.
Check out this YouTube video on Digital Marketing and briefly understand the need for content marketing:
How to develop a Content Marketing Strategy?
Hubspot is used by most companies for developing an effective and reliable content marketing framework through its content marketing strategy template. As per Hubspot, content marketing is the business process of strategic marketing that focuses on producing relevant, informative, useful, and reliable content to attract the defined audience and attain business profit through them.
Further, you will briefly understand how to create a content marketing strategy. You must first learn the reasons for developing a content marketing strategy. This will help you in creating better content and reaching out to a larger audience.
Reasons to Build a Content Marketing Strategy
In simple terms, you will realize that content marketing strategies begin from the point you understand why you need to create the content in the first place. Content marketing allows you to not only reach out to your respective business customers but also to connect with them. Besides, to create this content, you need to understand the mindset of your audience, what matters to them, what challenges they generally face, and so on. On this basis, you can create blogs that offer solutions to these customers.
By connecting with your customers and establishing a bond with them, they will begin to trust your brand. This will further push your company's name to the top of the list when compared to your competitors, and you will gain more customers for the services and products you offer.
You will now understand the step-by-step process of developing an effective content marketing plan.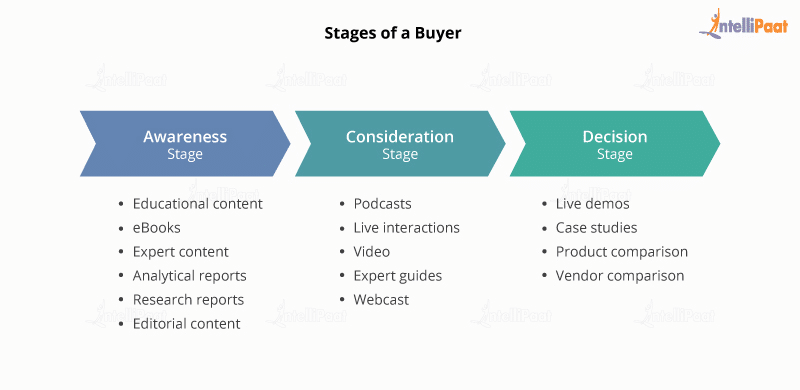 Set up KPIs
The first and most essential step to creating a simple content marketing strategy is to note down your objectives for your content marketing, depending on your business.
Let's take an example of a startup. In the case of a new and relatively less popular startup, it cannot start by designing brochures and sending out discount offers as it may confuse the targeted audience since the company is unknown to them. It needs to start by advertising its brand, along with the services and products it provides. Further, it needs to create awareness and market its brand to reach out to the people.
This significant step is for you to set your goals and the key performance indicators (KPIs) of your company that include the traffic generated in your website and other similar content marketing techniques.
Know Your Audience
After setting your goals, you need to know your target audience by understanding their profiles and requirements. You need to gain in-depth knowledge of their hobbies, interests, and other significant details. This will give you an insight into their behavior on a psychological level, and you will be able to assess them better.
You need to figure out what they like and what they do not, what their interests are, what their aims are in life, and so on in this stage. The answers to these questions will allow you to think like your audience, build a buyer persona, and develop relatable and valuable content.
Further, you need to understand the process that they follow to purchase from you. As per Hubspot, there are three stages a genuine buyer goes through, and in each stage, the buyer looks for a specific quality that attracts him/her toward purchasing the product.
Stage 1: Awareness
In the stage of awareness, you need to share educational content, research reports, statistical reports, editorial content, analytical reports, etc. This stage allows users to be aware of the existence of your company, and with informational content, you will catch their attention.
Stage 2: Consideration
Once you have piqued their interest, they will want to learn how you can help solve their issues. They will start to consider buying your products or services after being introduced to the advice, statistics, and analysis you provide. The content allows potential customers to move further and carry on with buying your services or products based on your offer and their requirements.
Stage 3: Decision
In the third and final stage, you need to offer them the reasons why you are the correct and the best option for them. Generally, companies fail to see the significance of this step, which leads to them losing several customers. For the customers to buy your products or services, you need to ensure that you provide them with all the details regarding why they should opt for you.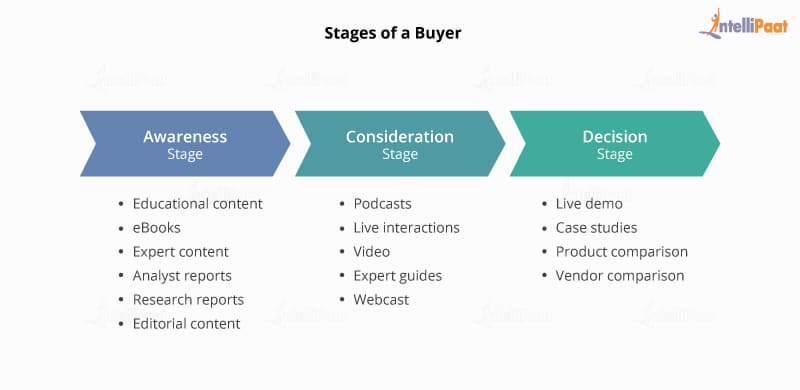 Once this step is completed, you will get a clearer idea of the audience you need to reach out to and how. Now, you can start to find relatable topics that will resonate with your audience's preferences. To relate to them and create valuable content, you need to start with the following:
Think like the audience
Check out your business rivals
Use Google, Quora, etc. to learn the potential topics that are generally searched by the people
Build a Content Calendar
After the previous steps, you will have several ideas without knowing how to go about executing them. Here, you need to begin organizing your thoughts and formulate them. For that, it is necessary to revisit your goals and your buyer personas, along with their stages.
For example, imagine that you need to create a content marketing strategy for a B2B. Being a new startup, you cannot start by creating content and comparing your company with your competitors. This would be completely useless for you because your company is hardly known to the audience. Rather, you should create content that introduces your company to the world and is useful and relatable for the audience. You need to leverage various useful tools such as Trello, Loomly, etc. to organize your ideas. Although, if you face difficulty in using these tools, then you can use Excel or other familiar tools as well.
Build Your Content
The fourth step of creating one of the best content marketing strategies is to create the content. Once you have your topics cleared and have decided on what you wish to convey to your audience, you should get started with creating the content, be it in any format, blogs, videos, or more. This step needs you to involve your creativity, and the content should have an anecdote.
While creating your content, there are a few things that you need to keep in mind, such as building characters in your story, interpreting the issues that your customers face, and offering a resolution for the conflicts.
Distribute the Content
The last step is to distribute the content you have created among the categories mentioned below and offer your content to the world:
Earned: In this, you can use social media as a platform to earn potential leads through organic growth. For this, you need to mold your content as per the social media platform you choose to publish your content in.
Owned: It consists of platforms that you own, such as your company application, blog, webpage, and other similar databases. This helps your audience get more involved in your service and product, allowing them to move into the consideration stage.
Paid: Although not all the content that you create, you can publish a few of them on paid links to increase the range of your reach. Content resources, including paid articles, guest blogging, feature articles on other websites, and more, are used for paid promotion. This results in the audience moving toward the decision stage.
Once all the steps are completed, you need to ensure that your content is working. Here, you must keep into account the KPIs you had set for your content. You need to track the complete real-time performance of your content. This will assist you in realizing what works for you and what does not so that the next time you do not waste your resources in creating unnecessary things.
Conclusion
In this blog on '5 Steps to Develop a Content Marketing Strategy in 2020,' you have come across the steps necessary to create a successful content marketing strategy. Though there are various types of content marketing strategies such as videos, blogs, etc., the process of executing and tracking them remains the same. If you are new to this field, then you should check out a few content marketing strategy examples for your benefit before starting to build one for yourself.