To show you how you can get into AWS, we will cover:
Before we dive into the AWS rabbit hole, let's take a quick look at how Amazon entered the Cloud Computing space and became the first in the market.
A Brief Look at AWS History
Back in 2000, Amazon wanted to build Merchant.com as a means for third-party retailers to start their own online shopping websites with the support of the e-commerce engine offered by Amazon. But, without the early foresight in 1994 (when Amazon started), things went haywire, and Amazon had a huge challenge at hand—how to segregate the services and move to a centralized developer platform. That was the tipping point when the Amazon Web Services or AWS, very slowly but steadily, took form with a group of well-organized and smooth-running APIs.
It was all going well and good except when Amazon realized that they were not able to develop applications any faster. Every individual project needed its own resources to be built leaving no room for reuse or scalability. Just building the database and storage components for a single project took months. This immediately called for thought toward building a set of common infrastructure services that could be used by everyone without having to repeat their modus operandi over and over again for each individual project.
The team of Amazon was already well aware of the fact that their core competencies lie in their ability to offer a broad selection of products, and that they were excellent in managing and delivering orders. Nonetheless, what they soon realized was that all those times spent with databases, storage, and compute services had resulted in them becoming efficient handlers and operators of cost-effective data centers, which were highly scalable and extremely reliable. By 2003, they considered this set of services to be, in some respect, an operating system for the Internet.
Andy Jassy, who had been there from the very beginning and now the CEO of AWS, had spoken at an event in Washington, DC, about how AWS came to be:
'We realized we could contribute all of those key components of that Internet operating system, and with that, we went to pursue this much broader mission, which is AWS today, which is really to allow any organization or company or any developer to run their technology applications on top of our technology infrastructure platform.'

Why choosing a career in AWS is a good move?
In August 2006, AWS became the first in the market to launch a modern cloud infrastructure service (Amazon Elastic Compute Cloud). Astonishingly, no one could do what Amazon did for another 7 years. To this day, it has turned out to be a massive advantage against its competitors with Amazon controlling 33 percent of the market. Microsoft (18%) is at not-so-close second, and Google (9%) is far behind, according to Synergy Group's Chief Analyst and Research Director. AWS is the fastest growing cloud out there. Can you see where we're going with this?
This will answer your question, 'Is AWS a good career?' Nearly one-third of the Internet is running on AWS, and by the looks of it, Amazon's cloud fortress is not coming down any time soon. This is your window to consider AWS careers and jump on the bandwagon to kick-start a career in something that will be in demand for a long time.
The world's leading enterprises, along with the public sector industries, have turned to AWS services and solutions. This means that whichever organization you choose to work for in the future, chances are that there will always be a demand for professionals with AWS skills.
Check out this AWS Tutorial video for a comprehensive understanding:
How to get a kick-start on your AWS career path?
There is no lack of resources when it comes to learning AWS. The Internet is full of online reading materials, books, tutorials, videos, forums, and courses. It is quite possible to learn everything you need to know about AWS from these resources, but an organization is not just going to hand you a job just because you learned it all on the Internet.
It goes without saying that to build a solid understanding of AWS and its capabilities, one would be advised to take up a reliable course from a reputable institution. It is only an AWS certification that will validate your expertise. Therefore, you need to keep in mind that acquiring a certification will put you in a better position when applying for AWS jobs in the future.
AWS certifications also allow access to a network of professionals and organizations to benefit from Amazon's resources that cover the aspects of business, technical areas, marketing, and sales. The AWS Partner Network also comes with training materials.
AWS Certifications
Let's take a look at the various AWS certifications that are suitable to acquire skills, targeting different AWS careers and roles.
AWS Foundation-level Certification
Certification:
AWS Cloud Practitioner – Foundational
Scope: Introduction and basic working knowledge of Cloud Computing and AWS
AWS Associate-level Certifications
Certifications:
AWS SysOps Administrator – Associate
AWS Solutions Architect – Associate
AWS Certified Developer – Associate
Scope: Deeper knowledge and skills in AWS architecture, development, and operations
AWS Professional-level Certifications
Certifications:
AWS DevOps Engineer – Professional
AWS Solutions Architect – Professional
Scope: An in-depth working knowledge of AWS architecture and engineering
AWS Specialty Certifications
Certifications:
Security – Specialty
Advanced Networking – Specialty
Big Data – Specialty
Scope: A comprehensive understanding of AWS specialty areas
Any of the above nine certifications will help you upskill and successfully pursue any of the suitable AWS careers.
Register for Intellipaat's AWS Training today and get certified.
Exciting Amazon Web Services Careers for Cloud Computing Enthusiasts
PayScale has recorded an average income of US$103,000 for any professional skilled in Amazon Web Services. Evidently, an AWS career path is highly favorable for those aspirants and professionals who are interested in well-compensated positions in the IT industry. Listed below are the top 5 AWS careers you can look into:
AWS Solutions Architect
Job description: Focus on Cloud Computing, architectural and latest AWS toolset recommendations, building and maintaining the cost-efficiency and scalability of applications on AWS cloud environments, etc.
Salary: From US$130,883 per year at the associate level to US$150,000 per year at the professional level
AWS DevOps Engineer
Job description: Proficiency in AWS solution designs, server implementation and maintenance, patching, debugging, etc.
Salary: Up to US$137,724 per year
AWS SysOps Administrator
Job description: Responsible for the installation, configuration, provisioning, operations, and maintenance of virtual and non-virtual systems, software, and other infrastructures, along with the development and maintenance of reporting dashboards and analytics software
Salary: Up to US$130,610 per year
AWS Certified Developer
Job description: In charge of building and developing applications and software services for enterprises with an in-depth working knowledge of cloud orchestration tools
Salary: Around US$130,272 per year
AWS System Integrator — Cloud
Job description: Work in a team to handle complex deployment and troubleshooting with a deep focus on Cloud Computing and information systems
Salary: Approximately US$81,000 per year
Make sure to check out this AWS tutorial by Intellipaat.
Apart from the core AWS careers, there are other opportunities available in the IT Industry. AWS-certified professionals are also eligible to pursue other top-paying jobs based on IT-related certifications and training.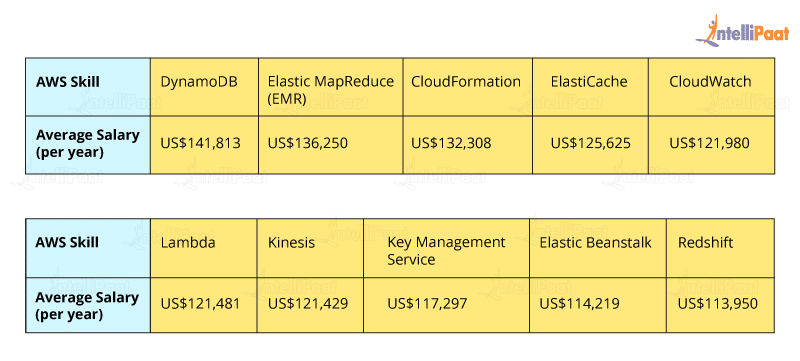 Take a look at some of the frequently asked AWS interview questions.
Final Thoughts on AWS Careers
You can pick this profession without worrying about your AWS career growth not just because of the demand in the market for AWS professionals but also because these skills can get you anywhere in the IT sector. For any Cloud Computing enthusiast, AWS careers come with such a myriad of possibilities that one need not have apprehensions about the lack of opportunities or room to scale the heights of the IT industry.
If you have any queries on AWS, you can drop a question in our Community.