PPC marketing is one such popular mode of Digital marketing wherein advertisers pay to the publisher each time their ads are clicked on. It is a kind of buying visits to the site rather than earning them organically. As every business needs a person who can place bids on search engines and social media, the designation of PPC Analyst has become an evolving career option for enthusiasts.
In this blog, let us discuss some key points:
What exactly is Pay-per-click Advertising?
Every business possesses two ways to attract the audience to its website, either through organic search or through a paid one. More than 75 percent of firms agree to the fact that the majority of the audience who come to their websites through paid advertisements are more likely to make a purchase than those from the organic ones. Hence, businesses, whether small or big, are more inclined toward spending their major portion of the budget on PPC ads as they believe that the practice is surely going to yield them a good conversion rate, eventually the expected returns on investment (ROI).
Please watch the video below to get a clear understanding of PPC, in particular about Google AdWords:
What are the qualifications that an employer looks for in a PPC Analyst?
It is easier to find a PPC Analyst who can run ads, but it is difficult to find one who is capable of generating ROI for the budget spent on the ads. Hence, companies are in the lookout for someone proficient in running successful ad campaigns.
To get noticed by employers, a wise PPC Analyst must be able to make smart data-driven decisions; he/she should be reliable and can generate conversions, eventually satisfactory ROI. Additionally, a PPC Analyst must:
Exhibit data and analytical proficiency
Have expertise on varied Digital Marketing platforms, current trends, and techniques
Ensure notable PPC performance on Google, Bing Ads, Yahoo, etc.
Be proficient in the management of campaigns on social media platforms, such as Facebook, Twitter, Quora, etc.
Great PPC Analysts are good at designing a marketing strategy for both pre and post ad clicks. They must also be able to:
Analyze the factors that affect the PPC ad performance
Run and optimize PPC campaigns
Create and implement strategies, reporting, and analyses
Run and monitor the best quality PPC activities
Build and implement an effective advertisement strategy
Shun unnecessary spend on unrelated clicks
Manage bids, thereby enhancing the amount of traffic to the ads
Be Up-to-date on current trends and developments
PPC Analyst Salary Based on Region
As it is an in-demand profession, PPC Analysts' salary varies according to the skill set, experience, and job location. In this section, let us have a general look at the average salaries of PPC Analysts across different regions of the world.
PPC Analyst Salary in India
The PPC Analyst average salary in India differs according to experience and job responsibilities. Below are a few of the PPC Analyst roles and their average salaries.
According to PayScale, as a fresher, A PPC Analyst can take home as much as ₹175,000 per annum. With 4 years of relevant experience and more, companies are willing to pay anywhere between ₹600,000 and ₹800,000 per annum. Let us have a look at some of the mean salaries.
Junior PPC Analyst Salary: ₹250,000 per annum
Senior PPC Engineer Salary: ₹450,000 per annum
Senior PPC Analyst Salary: ₹1,000,000 per annum
Additionally, wages may also vary according to the region. For example, Ahmedabad foresees a 25 percent rise in salary as compared to the national average. Whereas, for Pune, it is 15 percent high.

PPC Analyst Salary in the United States
In addition to the figures in India, let us also have a look at the PPC Analyst average salary in other global markets.
The United States inhabits the widest business market in the world. Almost every firm in the country has an online presence. So, it is most likely in need of Digital Marketing, social media marketing, pay-per-click advertising, etc. To cope with this demand, a PPC Analyst must possess additional skills such as search engine marketing, content marketing, automation, etc.
To excel your career in the field of Internet Marketing, a well-composed Digital Marketing course might turn out to be useful for you.
Let us see what the average salaries look like based on experience.
As per Indeed, the Junior PPC Analyst salary ranges from US$45,000 to US$54,000 for personnel with 1 to 4 years of experience, whereas a Senior PPC Analyst Salary comes up to US$80,000 per annum.

PPC Analyst Salary in the United Kingdom
In the United Kingdom, London has the majority of opportunities and also pays a handsome amount for PPC Analysts. To succeed in the country in the long run, a PPC Specialist must mold oneself according to the client's requirements as businesses don't want to risk their thousands of dollars on ads by hiring someone inefficient.
Here are the mean salaries of PPC Analysts in London:
According to Glassdoor, the Junior PPC Analyst salary is about £21,500,whereas the Senior PPC Analyst salary is around £32,000 per annum.

PPC Analyst Salary Based on Expertise
The field of PPC has become competitive as more and more Digital Marketing professionals are showing interest in the area. Constant advancements and competition are also bringing up new things to learn each day. Some of the skills that add up the credibility of a PPC Analyst are as follows:
Automation
Search Engine Marketing
Social Media Marketing
AdWords
Bing Ads
Web Design and Development
Facebook Ads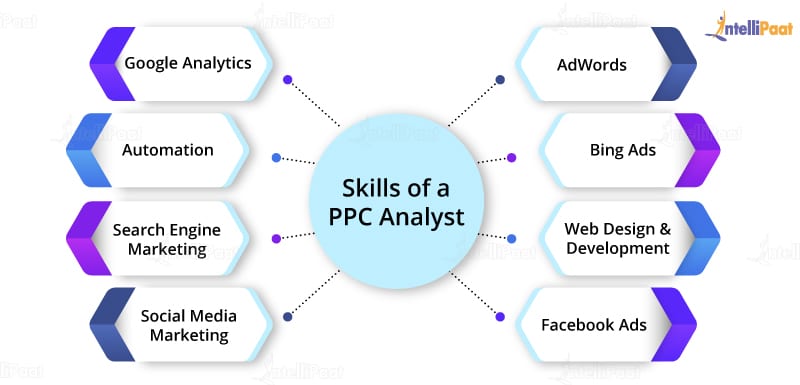 All the above skills are correlated to PPC and are much likely to pay you more than the average if you acquire any of them.
The PPC Specialist salary in India based on skills:
Google AdWords: ₹380,000 per annum
Social Media Marketing: ₹375,000 per annum
Google Analytics: ₹240,000 per annum
The PPC Specialist salary in the United States according to expertise:
Search Engine Optimization: US$53,000 per annum
Search Engine Marketing: US$60,000 per annum
Social Media Specialist: US$47,000 per annum
The PPC Executive salary in the United Kingdom depending on skills:
Google AdWords: £23,000 per annum
PPC Account Manager: £32,500 per annum
PPC Planner: £26,000 per annum
Conclusion
The above facts are enough to assert the growing demand for both PPC advertising and PPC Analysts in today's ever-growing business world.
Every firm is considerate about its spendings on marketing. Hence, companies of the day urge for expert PPC Specialists. If you are one who wants to explore your career in this field, you have to practice pay-per-click campaigns regularly, undergo specializations in its related disciplines, and explore the right career opportunities, and you are good to make a mark as a successful PPC Analyst!
All your queries regarding Digital Marketing can be resolved at Intellipaat's Community Forum.